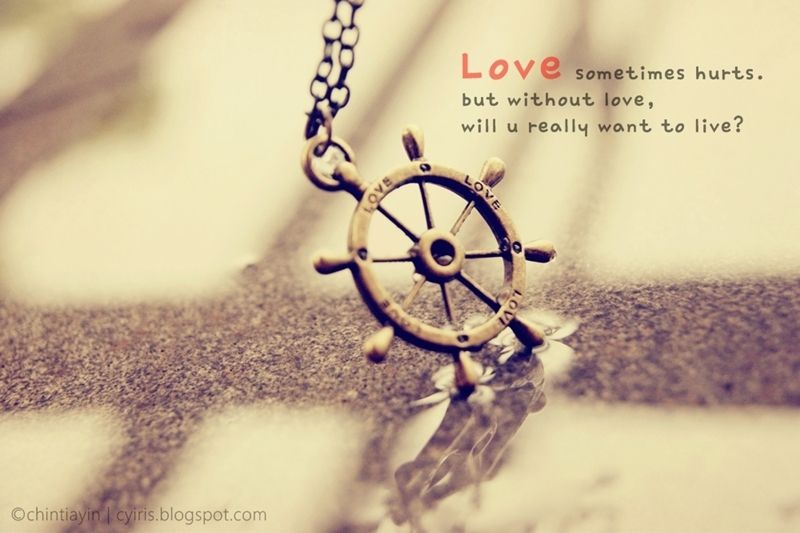 Most of people have ever experienced being hurt. sad. abandoned by love. Maybe you were also one of them. But, we often to hear this words : "It's better to have loved and lost than to have never loved at all" and you're like, "okay, fine." Love makes you become vulnerable. Open up your heart means allowing someone walk in to your heart and mess it up. Most of people become an idiot when it comes to the matters of heart. Sometimes, you love someone without knowing how, or when, or from where. You just... feel very happy and comfort every time you talk to him/her. You always excited to meet him/her. You try your best to spare your precious time for him/her. You miss him/her when you stay apart.
And once when you broke, you felt deeply sad. hurt. depressed. betrayed. and the worst is, lonely. Erasing your memories with him/her seriously took time, like forever. You start to distrust love. Saying "I've had enough to experience this. I will never ever want to feel it again."
You are possible to love someone and he/she loves you back, but ended broken up because any kind of causes, any kind of reasons. Sometimes people lost their love in the middle journey of their relationship. You are also possible to love someone who doesn't love you back. It's not a full love. It doesn't have the whole experience of being loved, but it's still there.
But, is it really okay for you to live without love?
Its true only few people can meet their happy ending in their first try. But isn't it worth to fall for several times though its hurt, as the process to finally find your true love in the last? Love actually helps you become more mature. You grow and learn from it. You learn about how to give, how to trust, how to respect and how to share your life with other people.
Never fear to begin a love once you are ready (not when you are lonely). Do not afraid to get the possibility of being broken. Its not love who break your heart. You just have to find the right person to share your heart with.
Don't be embarrassed if you've never been in love before. You have a ton of company.
If it's between love and losing

To never have known the feeling




If this is how it hurts

It couldn't get much worse




If this is how it feels to fall

Then that's the way it is




And if I end up lonely

At least I will be there knowing

I believe in love



In fact, everyone wants to be loved. Everyone wants to rely on someone. And everyone deserved it.
Love is the reason why we are all here. Well, maybe most of us.
Love, CY