Hi coolie fellas!
Since

the feast of

Eid still going on,

I'd like to say happy

Eid day for all of u who celebrated it! :)

You have a nice holiday, eh? Phew, made me sooooo envy~ I wish i could have my holiday as well but i've trapped on my so-green calendar of work

right now.

OK OK,
there's nothing to
be sad, keep working in this golden week is worth to be done since bunch of red coloured calendars still wait in the back!
End Year holiday, COME TO MAMA~
For now, endure it! B
ye, awesome holiday.
Finally. I've done to apply my application letter for an aussie's scholarship last week. I have no idea whether it will arrive in time or not. Its my mistake that i sent it too close with the final date and be too much indecisive :| Yet it arrive in time, i don't want to expect too much on it since its a bit too-good-to-be-true for me. Compete with more than 4000 applicants for around 400 available seats (and it will also get clustered by the kind major of study, home town, etc) is tough. Maybe luck have to come out right in time and prayer have to be sent out louder, lol. But you won't know what you will face unless you try, right? Lets make it simple. If i get no called back, then that's just not my right path. The other awesome path must be waiting for me. hihihi Who knows. But while the chance is exist right now, lets we try! It doesn't matter which way i'll be going later, i believe it must be the best way for me. :') --
UPDATED
: I didn't get that scholarship but some months later i got accepted in one of university in paradise island (read : Bali) on January 2013 and finished my post-graduate study there on August 2014. *YAY*--
By the way. i went to Malimbu two weeks ago. I didn't go down straight to it's beach but saw it's scenery up away from the hill. It was so pretty to see it from those high anyway. :)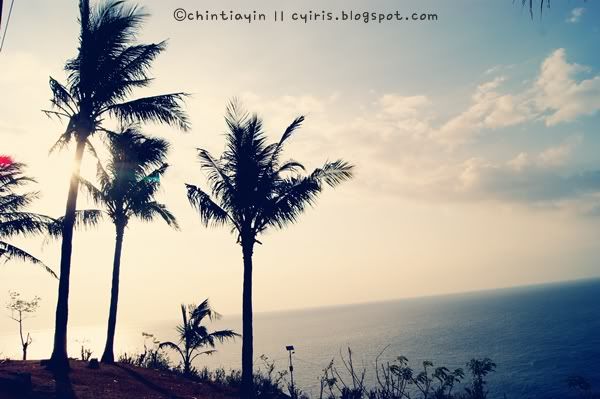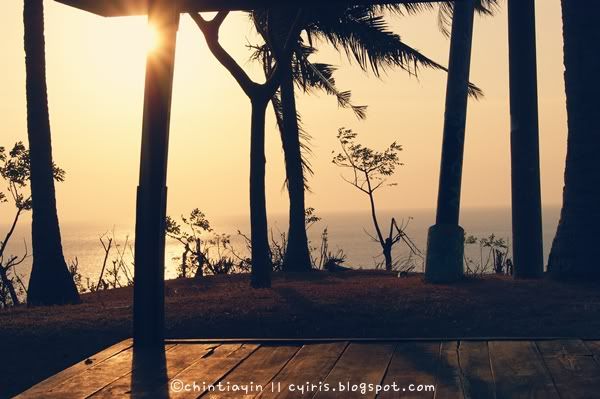 We spent all day long in the hill. From noon to sunset. How comfy.
It was so quite up there since there's no people catch up there in noon. People are use to stop by when the sun began to set at around 06:00 PM. The sunset looked so clear up there.
That was so perfect for stayed there while chewing the coconut! Fresh and yummy. :)
And here is...
ME. :| Muahahahaha

I know I know. Thats silly!
Guess who took my pic? My MOM. XD Unexpectedly she's a pretty good impromptu photographer, lol ! Thanks Mom, I love u so so!
♥
Last pic!
Mom's bag. HAHA. I just love how the sunlight shone on it!
♥
By the way i'm sorry for your inconvenience in visiting, fellas. I think some bots has spammed my chatbox so I added chaptcha on my cbox now. Ok then, I gotta go to do my job. See u later. :)
Regards, CY.